Ok I have to admit, I don't like fishing. So when I played the online scratch card game, Gone Fishing, I really didn't expect to like it. I wasn't sure what to expect from it, but when I got the graphics up to play, I burst out laughing. This really is a great scratch card game, for anyone who likes a bit of fun. There are lots of different aspects to the Gone Fishing scratch cards:
You get to pick a man
There are some fantastic prizes
The graphics are simply great
Really simple to play
Really makes you laugh!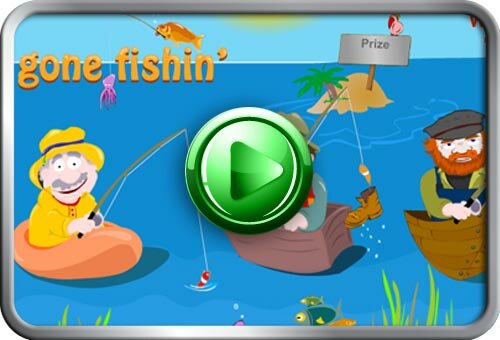 When you think about online pokie or other online games, you can see just how far online scratch cards have come. The number of scratch card sites has really made scratch cards evolve into a specific form of entertainment and Gone Fishing scratch cards are right up there with the best.
Gone Fishing Scratch Cards Are Fun All The Way To Shore
Gone fishing scratch cards are really wicked. I love the way that it is so appealing to everyone, so you really don't need to be into fishing to enjoy these scratch cards. The theory is simple, you have three rather large chaps, bobbing about in tiny little boats, that look as if they may topple over at any point. You then get to pick one of the blokes and see what he can fish out of the water for you, and if he fishes out a prize, then you win it.
Now that doesn't sound too unlike other scratch cards does it? It doesn't even sound that funny, but there is something really funny about the whole game. The men are all pretty quiet looking and almost seem to be startled by being looked at. Honestly it is a laugh and whoever designed those graphics had a real sense of fun. Getting blokes to fish money out of the water for you, what a dream that is and these scratch cards kind of turn that dream into a reality.
These scratchcards manage to offer a sense of fun with a kind of tongue in cheek air about them. They also have great prizes on offer (you get one of the blokes to fish the prize out of the water for you) and these come in the form of free scratch cards if you want to get the blokes to do a bit of work for you without having to commit. But you will soon be playing for real, because this is such great fun!