The scratch card game Esmeralda is a pretty unique scratch card in many ways. I have to say that I really enjoyed playing it, because it is a very good combination of chance and magic all rolled into one scratchcard. You will find that the features give it a really magical air:
The chance to play a fun game
The prizes offered are excellent
The graphics are great, with a flying witch!
Easy to play
Instant results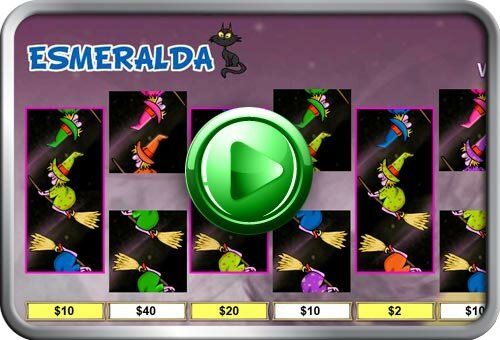 The best way to try the scratch game Esmeralda is to go for some free scratchcards initially, then once you have got the hang of it, you simply play for real. The prizes are great and it is really easy to pick up, which is really good if you are more used to online pokie games, than scratchcards.
Scratch cards are becoming ever more developed and these types of scratch cards are really winning people over. They seem to be the new kind of scratch games, and I for one am definitely converted. I really like the way that you have a blend of skill and luck. After all, you don't know which scratch cards are going to be paired up together, but you use your skills of intuition to make those matches appear on the screen. It is a real teaser and I really enjoy it.
Esmeralda Scratch Cards Are Skill and Magic Fused Together
I love a game of cards, but it has to be said I am not all that good, which is why I really love the scratch cards that you get when you play Esmeralda. Essentially you get 2 rows of online scratchcards. Each row has 8 cards. Then you have pairs formed, with the card on one row forming a pair with the one opposite it in the second row. In total that makes 8 pairs of scratch cards.
You can choose how many pairs you want to play with and then place your bets. Then you decide which of the online scratch cards you want to scratch off. You know when you have won, because the colours in the scratch cards are the same. The result is really quick, so you aren't kept in suspense for long!
It is a great play and although it sounds complicated, it really isn't, it only takes about one try and you will be a seasoned player. It's great to see scratch cards evolve like this and it is a firm favourite on scratch card sites.