If you think that scratch card games are not about huge sums of money, then think again, this scratch card offers you the chance to become a millionaire and have wealth beyond your wildest dreams. It is also very easy to play, which is great if you are new to the world of online scratchcards. It is a real dream come true if you like scratch cards and you really love playing for serious amounts of money. In essence it is a straightforward scratch card, but with some little features that make it a delight, so check out:
You can play with either 1,2 or 3 cards
It is really easy to learn how to play it
The prize money is exceptional ($1 MILLION JACKPOT)
You only have to match up 3 prizes to win
You have a win multiplier to make your winnings bigger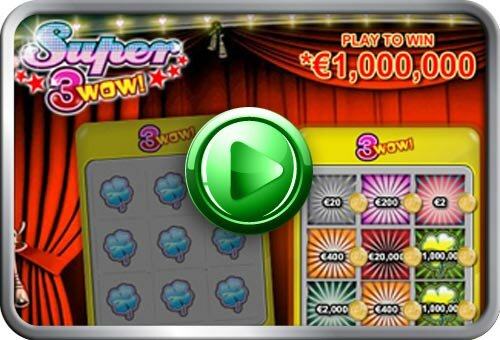 The joy of Super 3WOW scratchcards is that they are really easy to play. You get a choice of 3 cards and you can play either one, two or three cards. Then you can either scratch off the squares on each card individually or you can just click on Scratch All. Personally I like the thrill you get when you scratch off the squares one by one. It helps to build up a sense of excitement.
You can even click on the square that is next to the Win Multiplier to check out how much your prize will be multiplied by, so there are lots of different ways to win big money.
Let Yourself be WOWED with Super 3WOW scratch cards
If you are new to the world of online scratchcards, or you simply want to see what it is like before you play for real on the scratch site, then there are free scratch cards offered, to help you get used to the game and then once you are sure what you are doing, you can play with real scratch cards.
I used to be devoted to my online pokies, but this type of scratchcard really does bring online scratch cards up to a whole new level. It is fantastic fun and I particularly like the way that you don't have to play with three cards all at once, you can play with just one card and see how your luck goes.
Just try the Super 3WOW scratch cards and remember, they aren't called Super 3WOW for nothing! No, they have been cleverly named because they really are 'supa' and they certainly have the WOW factor!